From small window graphics to full vehicle wraps, car and van graphics are an incredible way to advertise your business. Like a travelling billboard. We can produce the graphics for your car or van, whether you want to incorporate a logo design, contact information or branding.
Why invest in vehicle graphics?
If you operate in a certain area then investing in vehicle graphics for your car or van can be a great form of advertising. It can get your brand in front of potential customers and more importantly your contact details.
There are 35.6 million registered vehicles on the road in the UK, and this number is rising each year! This means that there are more and more drivers that can see your brand. (Department of Transport, 2015)
Vehicle graphics in a busy area can be seen by over 3000 people per hour. (3M) SO get your vehicle graphics designed today.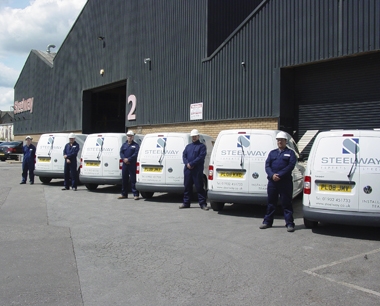 Our vehicle graphics service can include:
DESIGN
As professional graphic designers this is what we do best. Many vehicle signage companies will offer design but often can't deliver a really professional result. You can trust us to bring your vision to life.
OPTIONS
As much as we hope to produce your ideal design first time we are realistic. This is why we will provide you with various options. We can then look at these and take your comments on board to create something you are truly happy with.
PRODUCTION
Once designed your vehicle graphics will need to be brought to life. For this we can source vehicle wrap or livery specialist who can turn your design into reality. Past examples include fleets of vans fully wrapped with graphics.
We have been offering Graphic Design services from our office in Telford, Shropshire for many years. Our team is experienced in design for both print and online. Our aim is the same as yours. To build your brand.
We have found working with you a pleasure and appreciate your input into lifting corporate image and your advice as to print and web issues. In particular many thanks for being so accommodating with the many changes of mind and alterations along the way – designers often plough ahead with their own thoughts but we feel you've listened to what we were trying to achieve – we look forward to more of the same over the coming months and years!
We would like to thank you and your team for their work and patience with this project. We appreciate that the new corporate brochure and website have taken longer to complete because of the number of amendments we made to our original brief but it has been well worth the time and the number of visits you made to get the detail correct and the end result presents our business as we wanted.
You may also be interested in:
LOGO DESIGN
Don't have a brand yet? No problem before we get started on your signage we can create a whole brand identity for you including a logo. This can be the starting point and we can work towards the signage you are looking for from this.
SIGNAGE
Whatever your business if you have a physical presence then you are likely to need signage designed. We have produced shop signage, large factory signs and more for an array of both B2B and B2C clients.
WEB DEVELOPMENT
Once you have your brand in place you may be looking to setup and online presence. We have an experienced web team here at The Studio 4 who can get you up and running online.
Ready? We would love to chat