Following the launch of our new website, The Studio 4 will be posting a fortnightly blog highlighting relevant issues in the world of marketing. Each will be written by a different member of the team on topics that are relevant to them. It maybe the latest hints and tips for SEO, or suggestions on how to best utilise your social media platforms. Through to information on the latest design tools, or how to promote your business through PR. I hope you will find our blogs insightful and if anyone ever wants to ask us a question, we would be more than happy to give our advice.
As it was my turn to write the first blog I thought it made sense to write about why blogging is so important.
We all know what a blog is and the opinion for many is that it can be a tedious task in any business to keep your blog up to date and think of different stories that may interest your audience. Hopefully I can go some way in explaining way it is a crucial tool for your business.
So, how often do you update your website? The truth for many is not enough. The problem is Google sees an inactive website as a website that has nothing new to say and therefore is not current. Every time you write a blog post it is one more indexed page on Google which means that your site will be checked regularly for fresh content.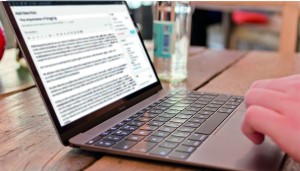 A blog can also mushroom into so many different forms. Once you have written a blog, the main points can be summarised and then posted on social media with a link back to the full blog. Dependent on how relevant your audience is, there is every chance they will share your blog and in turn, cast your net even further. Blogs can also be used in email marketing as part of a regular newsletter so that you are constantly appearing in the inbox of your target market. It can be added to social bookmarking sites such as Reddit, News Vine and Stumble Upon, and because the content is relevant, it will create a quality link back to your site which will improve the domain authority of your main website.
Blogs also establish your own importance in your market sector. If you read most of your competitors websites, you all probably say pretty much the same thing and yet most users will look through at least 3 websites before they make a commitment. How can you stand out from the crowd? Through your blog of course! Providing insightful information and becoming the voice of authority for your target market.
I've already mentioned that blogs are indexed on Google but you can also tag your blog post for certain keywords to help Google find your post more easily. This means that your blog post can be a feeder to your main website, and the more interesting and topical the blog is, the more benefit your main website is likely to have.
The content of the blog will also raise the profile of your own site for certain keywords that you mention in your blog. This is because if you want to rank on Google for "Ice Cream" the first thing that you would do is create a page on your website talking about "Ice Cream" but after a month or 2 and you seeing that Google is not even ranking you on the first 5 pages, what do you do next? Well at the moment, Google only knows that 1 page on your website talks about "Ice Cream" and so therefore you are not seen as someone who should be ranking higher. If you start to talk about "Ice Cream" on social media, mention "Ice Cream" on relevant directories and most important of all, write a blog post all about the benefits of "Ice Cream" being a key antidote to help people over heating in the summer, before you know it, you will be climbing the Google rankings.
Blogs need to be engaging though and in order to make a blog more popular with your target audience you could offer an incentive to encourage people to interact with you. If your blog becomes a discussion point in your marketplace, then its benefits will grow even further.
Check out some of the blogs we have created for our clients, simply click on one of the links. In addition if you can answer the question below, we will create a blog for your website for free.
Question
Name a social bookmarking site that you could post a blog on to.
Blogs we have created
http://laidlawblog.co.uk
http://specificationproductupdate.com
http://hunterdouglasblog.co.uk
http://thecarbird.co.uk